AirPods Pro 2 – rumoured to be Apple's next wireless earbuds – are tipped for a premium design and improved noise-cancelling technology. We hoped they'd surface alongside the entry-level AirPods 3 in October, but it wasn't to be. So when will Apple announce the AirPods Pro 2? And what features will they offer? Here's what we know so far...
The original AirPods Pro came out back in late October 2019, offering a tweaked design over the original AirPods, along with a customised fit, active noise-cancellation, sweat- and water-resistance and superior on-device controls. Over two years later, and there's plenty of talk about an updated version.
Read on as we round up all the latest hints, tips, leaks and price predictions in the build up to the launch of the AirPods Pro 2 buds...
Apple AirPods Pro 2: release date rumours
The AirPods Pro 2 were rumoured to launch in April 2021, but that didn't come to pass. They were a no-show at the Apple 'Unleashed' event on the 18th October, too, where tech fans were treated to new AirPods 3 buds and new Apple MacBook Pro laptops.
So, what is the AirPods Pro 2 release date? Nobody knows for sure. Bloomberg had it pegged for the fourth quarter of 2021, but that prediction's dead and buried now. A more recent report says we'll see them sometime in 2022.
In October 2021 Apple Leaks Pro tweeted that the AirPods Pro 2 are "not coming until Q3 2022". That would mean waiting until September, around the time of the rumoured iPhone 14 launch.
Apple AirPods Pro 2: price news
So how much can we expect to pay for this new pair of Apple AirPods Pro wireless headphones? This is Apple, so don't expect them to come with a cheap and cheerful price tag. Most true wireless earbuds command a premium – even more so when they bear an Apple logo.
The Apple AirPods Pro launched at £249 ($249, AU$399), and while a slew of AirPods Pro deals have knocked down that price down a bit, we can't imagine Apple would deviate much from that price point for its next pair. Apple Pro Leaks agrees, having tipped the AirPods Pro 2 to cost $249 as far back as October 2020.
That would probably put them in the firing line of rivals from Sennheiser (the Sennheiser Momentum True Wireless 2 or their yet-to-be-announced sequels) and Sony (the Sony WF-1000XM3 or their successors, the WF-1000XM4).
Apple AirPods Pro 2: design and features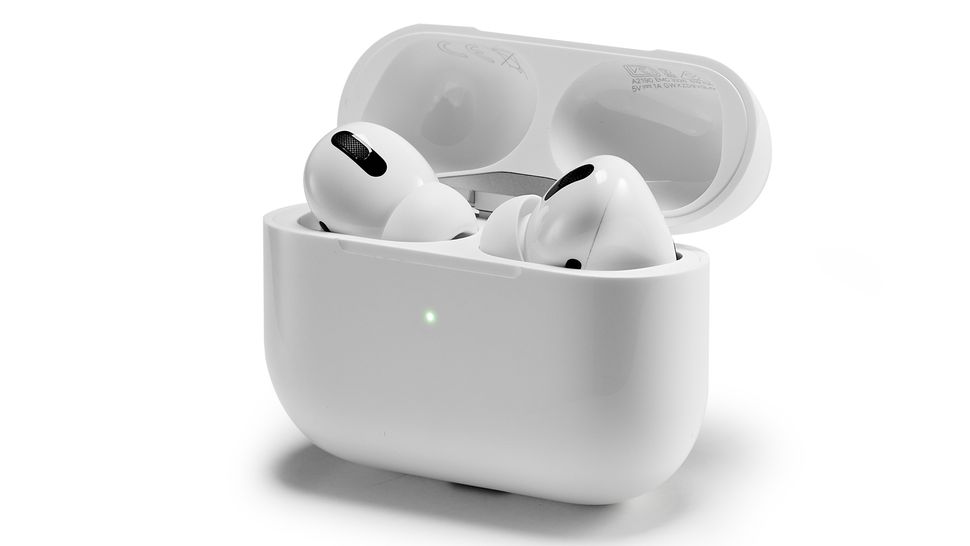 The 2021 AirPods 3 support spatial audio – but not noise cancelling. It seems that feature will remain exclusive to the 'Pro' buds – hardly a surprise considering it's the main differential between the standard AirPods and the AirPods Pro. What is surprising is that the AirPods Pro 2 could reportedly get rid of the stem completely in favour of a rounder design, as adopted by the likes of the Samsung Galaxy Buds+ and Sony WF-1000XM4.
That said, Bloomberg reckons that packing noise-cancellation, wireless antennas and microphones into a smaller AirPods Pro earbud housing has so far proved challenging. Perhaps for now we should cross our fingers for – but not bet our homes on – a stem-free aesthetic.
Apple's in-ear AirPods are of course positioned above its Beats subsidiary brand range, so we expect a suitably premium set of features, headlined by active noise cancelling (ANC). Apple ignored the trend for user-selectable noise-cancelling modes in the AirPods Pro; noise cancelling is currently either on or off. The exception is the 'Transparency' mode, which actively allows sound in from the outside world. In our tests, we found the noise cancelling "strong" and effective, but we did find it impacted the timing of music a little.
Could Apple implement a more granular noise cancellation control, as seen on rivals like the Bose QuietComfort Earbuds? Maybe...
We could also see a world-first when it comes to ANC – the ability to disable it when the earbuds recognise a voice or code word. An Apple patent details tech that would disable active noise cancellation when the headphones recognise a contact's voice or a preset code word, so the wearer wouldn't miss out on what was being said. It's like Transparency mode, but it kicks in automatically. Neat.
It seems the new AirPods Pro model will be powered by a new Apple wireless chip, which could have the potential to bring about improved noise cancellation, usability functions and battery life.
Bluetooth 5 should come as standard, as well as hands-free Siri compatibility. More stamina (currently, battery life in the Pros is five hours for the earphones with another 19 hours from the charging case) would be a notable improvement, and we'd love to see on-earpiece volume controls rather than having to dig our phones out or rely on Siri.
Though Apple might have something a little more special up its sleeve. According to one report, the AirPods Pro 2 could have 'through-body' controls, meaning you could control them by touching your face, clicking your tongue or making in-air hand gestures. There's even a patent to back this up. Though we wouldn't bet the house on this one.
There's also a rumour regarding some new fitness tracking features. A report by Digitimes claims that future AirPods will use ambient light sensors to take biometric measurements, potentially for monitoring blood oxygen levels as seen in the 2020 Apple Watch Series 6.
As suggested by MacRumors, this may well work in a similar way to the clip-on pulse oximeters used in hospitals, which shine a light through the earlobe to deduce the amount of oxygen in a patient's bloodstream. Involving stuff, and considering we found the AirPods Pro a great workout companion, such a feature might make them one of the best headphones for running.
That could also help position them as a way of keeping tabs on your health, just like the Apple Watch (current tagline: "The future of health is on your wrist"). And given the global health events of the past 18 months, it could well be an appealing prospect for many.
We would also expect another step up in terms of sound quality. The AirPods Pro, while still a cut above your average in-ear headphones, are bettered for sound by the Sony WF-1000XM3 and Sony WF-1000XM4, both of which are a little more dynamic and attacking overall.
If Apple can marry a premium sound quality with its usual winning ease of use, it could well have a hit on its hands (and more importantly, in our ears).
Lastly, the charging case could be in for an overhaul. According to Macotakara's sources, the AirPods Pro 2 case will be a little taller and narrower than the current one. Not a massive change, admittedly, but a design tweak all the same.
Will they be called AirPods Pro 2?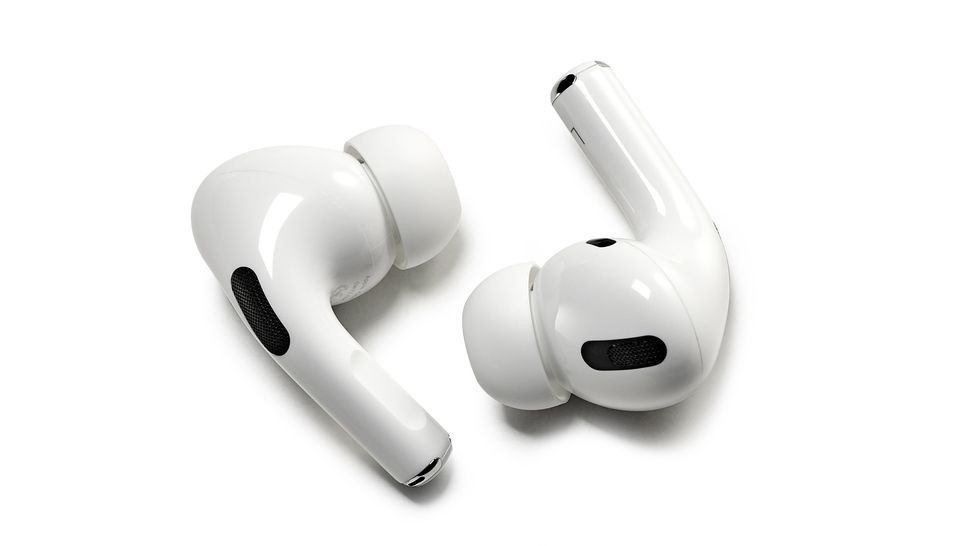 It's a good question. The Cupertino giant had enormous success with its AirPods range of wireless earbuds right out of the gate, and it chose to stick with the title for the AirPods Pro. Apple claims its AirPods are the most popular headphones in the world, so we expect the company to reuse such a recognisable name.
After all, it stuck with AirPods for its first over-ear headphones, the AirPods Max. Names such as 'SoundPods' and 'AudioPods' have also cropped up online, but the consensus seems to be that 'AirPods' is the chosen branding for all Apple headphones, and the suffix (i.e. Pro 2) will define the rest.
Reliable leaker Jon Prosser advises readers to think of 'Pod' as Apple-speak for 'music', which makes sense when you consider products such as the Apple HomePod and Homepod mini wireless speakers. For now, the smart money is on 'AirPods Pro 2'.
AirPods Pro 2 vs AirPods Pro
It's still too early to tell how Apple's next Pro proposition will compare with its predecessor, but obviously we can take an educated guess.
The predicted shorter (or even non-existent) stems will make them lighter, allowing the charging case to become smaller – ideally with an even beefier battery. It could also permit space for more advanced drivers and consequently better audio performance. There could also be more room for noise-cancelling components, so we fully expect Apple's most advanced in-ear noise-cancellation yet, albeit potentially not controlled by a stem squeeze (which we actually found a little fiddly anyway).
We would also add that the current AirPods Pro aren't without issue; problems regarding ANC and crackling in some sets prompted Apple to offer free replacement sets to those affected. This glitch will hopefully be eliminated in the updated AirPods Pro 2 model.
Stay tuned and we'll keep you posted ahead of the predicted launch.
MORE:
See the best AirPods Pro deals: cheapest AirPods Pro prices
Considering Bose? Read Bose QuietComfort Earbuds vs Apple AirPods Pro: which is better?
Check out the best true wireless earbuds